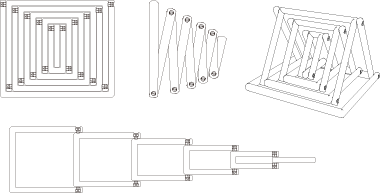 "Simplicity is the ultimate sophistication."
– Leonardo Da Vinci
Jeliku was named from its Chinese name "接力酷" which means the special and astonishing connection between each frame. The design seems ordinary, but it is within unlimited possibilities and changes. You can bend, shuttle, stack and combine Jeliku at will, to create many interesting shapes.Jeliku is fit for people of all ages to have great fun time.You can play Jeliku anytime anywhere without any limitation.
We hope Jeliku will bring more happiness and creativity to people worldwide. Let's make more fun!
The valuable opinion and suggestion from all respects is our precious information for future product development. We will endeavor to create different sizes from tiny to giant for different target groups, change Jeliku outline shape for varied performance, and provide new package options.
The mentioned amendments will be founded on our insistence on providing the latest product with excellent quality. Please contact with us any idea or thought you may have. We will appreciate your precious messages for better improvement. We look forward to receiving from you.